Description
Used 2012 Northwood CNC Router TA 512 MT M-Drill Auto Tool Changer
Moving 5′ X 12′ table with Waffle grid for high vacuum flow for small part hold down capability
18HP Router and 12 station automatic tool changer
12 spindle multi spindle drilling block vertical and horizontal capability
Vacuum Pump
Vacuum hoist for manual loading and unloading
Originally sold for $245,000 plus the cost of the vacuum assisted material handling system $17,000
Listed used as is in good running condition available for inspection $139,000 loaded onto your truck
Northwood CNC Router with Moving Table and manual material loading and unloading gantry vacuum hoist assist.
FEA (Finite Element Analysis) Design engineering process utilized in entire machine design
insuring maximum reliability. The machine construction consists of a tubular steel weldment skirted with steel plating and
cast iron drive components for maximum rigidity allowing for superior machining performance.
All machine components are heat-treated (normalizing) or vibratory stress relieved.
Heavy steel, stationary bridge is reinforced by vertical and horizontal 8" diameter stiffeners.
The bridge spans the machining centers moving worktable.
The Northwood Machining Centers with their extremely heavy-duty construction throughout
insure machine stability, accuracy and superior longevity.
Traveling table via balls crew transmission allows for smooth and accurate positioning as well as smoother cuts compared to rack and pinion transmissions.
TOOL TOUCH PROBE
Tool Probe will measure tool length automatically and then, load the tool length offset page in the CNC Controller. The tool probe in conjunction with the spoil board milling software will automatically update the tools offset register after face milling the worktable.

Rear View
This Head Configuration consists of a multi spindle Drill and a 18HP router with Auto Tool Changer
DRILLING UNIT
One (1) dedicated 2.5 HP, 19-Spindle, L-Shaped Flexible Drilling Unit, with thirteen (13) vertical
spindles (5 x 8) and three (3) double-ended horizontal spindles (2 x 4); 4000 RPM; 32mm pitch;
independent selection.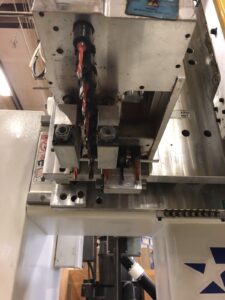 One (1) 18HP (13.5KW ), 4 Pole "Cartridge" Spindle with HSK F63 Chuck, programmable RPM up to 24,000, synthetic grease lubricated "Quad" ceramic bearings, a safety device for automatic fault detection, and a maximum tool shank diameter of 1″.
One (1) Programmable ¼" Swivel Air Blast Nozzle at the spindle. The nozzle is independently programmable via an M code.
One (1) HSK F63 "Twelve Station" Automatic Tool Changer Carousel "Dynamic" carousel is attached to the spindle tooling plate (allowing back ground tool change while drilling) with a safety device for automatic fault detection. The maximum tool diameter capacity is 8″ per pocket with adjacent pockets empty and 4″ with all pockets full. Total carousel weight capacity of 120 lbs
One (1) Tool Changer Carousel Dust Shroud – Programmable Dust Shroud with pushbutton override at the operator console for safety.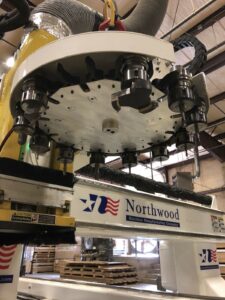 Fanuc 0i MD CNC Controller
Intel Processor – Windows 7 Operating System
12.1″ Color LCD – Touch Screen Control Panel
Panel I Memory 2GB RAM
40 GB Hard Drive / DVD-ROM Disk Drive
Network Ready (Includes Card)
VACUUM SYSTEM
One (1) 40 HP liquid ring vacuum system with a 10 micron inlet filter. The recirculation oil-vane type pump supplies a maximum of 29.3 Hg vacuum (98% absolute vacuum) to two independent ports on the worktables) at a maximum flow of 520 cfm.
One (1) heavy duty exhaust/reclaim muffler-filter ensures quiet and clean operation.
Vacuum Voltage: 460 volts, 3-Phase – 52 AMPS