Description
Used Thermwood 2004 M40 CNC Router 5 x 8 Table ATC $25,000
This used Thermwood 2004 M40 CNC Router has a 5 x 8 table and bar style tool changer.
It has ran 8 hour shifts with low lot sizes so many change overs each day so the run time hours are low.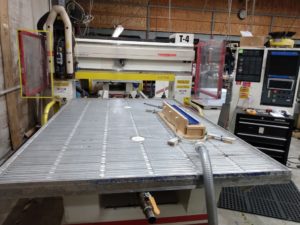 Work Table:
60 inch wide by 96 inch deep Mic-6 aluminum jig plate table top including ½ inch nylon standoffs and extruded skirt.
■ Vacuum – Table equipped for vacuum hold-down, includes one high flow vacuum port with four inch vacuum plumbing.
The work table has one vacuum zone with one port which is operated by one manual control valve.
■ Vacuum pump is not included.
Router motor:
■ One 1 O½ HP, 3,000 to 24,000 RPM variable speed tool change spindle mounted to a independent servo
controlled vertical axis. Spindle will have programmable on/off and programmable spindle speed.
■ Seven position bar style tool change system, includes 7 toolholders with collets and cover-nuts. Maximum
diameter tooling is two inches.
■ Automatic Tool Length Measurement – The Automatic Tool
Length Measurement system provides an automatic method
of measuring tool length and entering tool length offset
numbers into the control system.
Thermwood Super Controller:
CONTROL SYSTEM
The Thermwood Gen2 SuperControl is feature rich, high performance CNC control system
configured to perform 3 axis simultaneous motions. It is a multi­processor, full multi-tasking
control. It features a high level of hardware integration, extensive use of reliable surface mount
technology and a built in upgrade path for future technology.
The control is equipped with a 15″ full color LCD monitor, 85 key 101 emulation QWERTY
keyboard and a 100 Gigabyte hard disk drive. It also includes a serial port for hand held
programmer interface, variable 0 to 120% feed rate override and operator controls for start,
stop, axis jog +, axis jog -, block step +, block stop – and feed hold. The control provides PCI
bus expansion slots and is compatible with most Local Area Networks (LANs) as well as a
variety of peripheral computer devices.
The control uses a "Windows XP Pro" operating system, offering the operator choices for
program and machine operation display, pop up windows for event and information display,
pop up windows for data input, and the ability to operate the machine in the background while
doing other tasks on the control.
The Gen2 Control includes the Hand Held Programming unit.