CNC Routers are often a wood factory's 1st step into Automation of any kind. We can help you Determine the Proper Configuration for your next CNC Router. 
Automation is often a scary word to employees in North American wood factories. Why? Because automation typically is synonymous with the loss of human jobs. While it is true these CNC Routers are actually doing the work that people used to do; most of the time, factories that utilize automation like this are competing much better in the marketplace and end up with more human jobs than before simply because of the company's overall ability to compete with our neighbors overseas. Lets face it, if you worked in one of the largest wood factories, for example, over the last 10 years, you would have noticed the huge recession by seeing plant closures and lay offs all over North America. In my opinion, this was due largely to "globalization". Countries with grossly low labor costs and reduced or non-existent regulations were able to offer similar quality goods at lower prices. The largest wood producers opened factories in places like Russian, China and India while the rest of the "big boys" and wood factories down to even very small manufacturers took advantage of the low cost goods and services that these countries were able to provide.
**For more information on CNC Routers, click on the photo in this section or on the "CNC ROUTERS" tab at the top of the page. 
Software is the 2nd Element of Successfully Implementing CNC Routers.
CAD/CAM software is made by perhaps as many as 100 suppliers. Sorting out which software is right for you depends on almost as many factors. In this section I can help you determine which software will be best for your particular application. The nesting that you see to the left is an example of plywood frame parts for upholstered furniture. You may produce office furniture, kitchen cabinets, staircases or dinning room table tops. Each will present a unique set of circumstances that may effect the type of software you require. Some software was developed with metal manufacturing in mind and then modified to work with wood, but I can tell you, cutting wood is much different than cutting steel or aluminum. Features  like nesting with common line, "head down" nesting, or tabbing are all aspects of CAD/CAM that need to be understood before making the decision of which software is best.
**For more information on software, click on the photo in this section of the "SOFTWARE" tab at the top of the page.
Tooling is the 3rd Element of Successfully Implementing CNC Routers.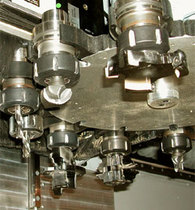 So you have a CNC Router and Software and you think you are ready to start production? Think again. The proper tooling will make or break the deal. Short term the type of tool you use needs to be very much considered because the size and weight of the tool could change the type of tool holders you spec for the machine. So if it is not too late, and you have not purchased your next CNC Router yet, you need to spend some time reviewing your particular application. If you are cutting plywood sheets 100% of the time with a 1/2 spiral bit then the tooling section will be limited to finding the best spiral bits for the price and a good service company that can sharpen them a time or two. However, if your production looks anything like the photo when your are ready you will need to spend a good deal of time reviewing this aspect of your process. The information we provide will get you a long way to understanding the principles that you need to know to determine how tooling will impact your CNC Router or your next purchase.
**For more information, click on the photo in this section or the "TOOLING" tab at the top of the page.
Vacuum is the 4th Element of Successfully Implementing CNC Routers.
There are different types and sizes of vacuum pumps and both the type and the size play a huge role in determining the configuration and type of CNC Router that should be used for your particular application. There are 3 basic types of pumps as they relate to holding down your wood or plastic parts. 1. Reciprocating Piston 2. Rotary Vein and 3. Rotary Screw. In the photo on the left, the type of pump required to hold parts down on these pods would only need to be a low horse power (1hp – 3hp) pump capable of achieving high vacuum pressure at the top of the pods. Nesting plywood or MDF parts, on a 4×8 table, typically require much higher horse power (10hp – 25hp) capable of not only high vacuum pressure but also moving substantially more air. A good deal of effort will need to go into understanding your application to determine your need.
**For more information, click on the photo in this section or on the "VACUUM" tab at the top of the page.
Dust Collection is the 5th Element of Successfully Implementing CNC Routers.
In my 30 years in this business I have seen factory floors you could eat off of and I have also seen dust so high around the CNC Router that I needed a shovel to get around the machine to repair it. Not only does proper dust collection affect the cleanliness of your factory, but it actually does affect the quality of cut and the longevity of the expensive machine components and the router motor itself. Dust collection is a bit more complicated than just putting a a big fan on a bag. You must achieve an ideal "static pressure" at the inlet of the router motor to get maximum dust collecting capability. I have found that a good rule of thumb is 2,500 ACFM on no less than a 3hp motor, per outlet, provides great dust pick up. However, this is largely dependent on the size of the dust hood around the end of the router motor and the type of brushes used to surround the router bit. Of course, individual drill heads or other heads will vary depending on the size of the dust hoods also.
**For more information, click on the photo in this section or on the "Dust Collection" tab at the top of the page.
Maintenance, Service & Support the 6th Element of Successfully Implementing CNC Routers.
This topic should not be considered too lightly when buy a new or used CNC Router. New machines typically come with a standard warranty of 2 years. The first year generally covers parts and labor and the second year generally covers parts only. The less expensive machine, often have less than one year and some have none at all. Used machines have a little more to think about. Is the router manufacturer still in business? If so, do they have a service start up policy and charge? Several companies have now implemented a service start-up policy which works like this: you have to pay the manufacturer to come do the start up and installation. By itself is a good idea, however, you will also have to pay between $1,000 and $3,000 to get the machine "on the books". Some companies need a credit card just to receive service calls. Most companies are charging between $100 per hour and $150 per hour plus expenses from door to door. Part availability and price is also a factor not to be overlooked.
**For more information, click on the photo in this section or on the "Service" tab at the top of the page.
Sharing Information with Other Users is the 7th Element of Successfully Implementing CNC Routers.
Sharing information is what this site is all about. My aim is to share my information and to also let you share information with other CNC Router owners which you may find just as valuable. Asking questions and helping other owners sort out their own problems is perhaps the greatest way to help yourself. This forum is not the place for salesmen to peddle their goods or services just end users discussing experiences. Chances are there have been many people stuck in the same place you are and they are the best people to help you out. You, in the same way, are in the best position to help your fellow CNC Router users. I will post blogs from time to time on hot topics or suggestions as they occur. It may be on a particular machine, a software issue, a tooling issue or vacuum hold down technique but having a place to gather and help each other out is the inspiration for this page. It is my plan to invite experts from time to time to host events here to answer technical questions about their products or general solutions about tooling or software and the like.
**For more information, click on the photo in this section or on the "SYNERGY" tab at the top of the page.
Meet the Men Behind this Web Site.
My experience and understanding of how to build, retrofit, maintain and service CNC Routers is equal to my ability to understand wood production, manufacturing and how to configure a CNC Router to maximize its automation potential for each new challenge. It is my desire and intention to provide the basic information and knowledge, based on mine and my fathers collective 60 years of CNC Router experience, to end users at no cost for anything we are able to put on this web site. My father and I used to work for Thermwood. He started in 1979. It was his job to design and build DC servo boards "in house" to replace the, then current system, stepper motors drive system. I started in 1984 and became a process sales engineer. My duty was to determine the best CNC configuration for the end user based on Thermwood's capabilities. At this time there were only a hand full of CNC Router builders in the US and fewer importers of these machines for the wood industry. It was Thermwood's idea to build their own machine controller and electronic drives to run the CNC Router and save significant dollars over the, then, very expensive commercial grade controls. Fanuc and Allen Bradley were becoming more competitively priced each year so the race was on. In 1985 I left Thermwood to build our own CNC Router. It was my idea that there was a need for a better built machine with more reliable components and commercial grade control would better serve the larger companies and be price competitive against the Japanese importer, Shoda. We "sold" our design to Northwood in 1992 and is still being sold today. We began servicing and supporting most types of CNC routers directly for the end users. In 1996 I found an Italian manufacturer to build a machine to my specification to fill a need under the $100,000 price point for smaller cabinet manufacturers and once I had it to the machinery show in Anaheim, we "sold" the rights to import it to Holz-Her and it is still being sold today. We began focusing on rebuilding used machines, service and support. My passion, however, was always in process engineering and helping factories figure out the best way to introduce automation onto their factory floors. In 2000 I won a competition from Haworth to build a layout that could increase the production of an existing facility by 12 times. This facility is still in production and remains one of their most profitable divisions to this day. Discovering problems and finding solutions is my passion. I have personally sold a lot of machines since 1985 but the  efforts of my father and I are perhaps responsible, indirectly, for as many as 3,000 CNC Routers in the USA today.
A Revolutionary New Way to Investigate, Evaluate and Purchase CNC Routers has Arrived.
If you would desire or require more assistance than this web site offers please feel free to contact us for direct assistance with any aspect of the process. Consultation on very specific aspects of this process is available but we have a unique approach to make it free. Currently there are over 100 manufacturers that are manufacturing CNC Routers for the North American market place with prices that range from $5,000 to over $400,000 just in the wood working segment alone. Most of these are "beginner" toys for garages or one man shops but could provide a level of automation and production to satisfy some companies production requirements. Alternatively, some companies with very high production demands may find a cost justification of a machine that costs over $400,000 to build. Determining which of these companies can build a machine for you is not even the first step but you can imagine the amount of time that would be required to filter through even the most popular companies and the numerous phone calls that would follow each inquiry by the respective in house sales staff and or the respective dealers in your area. I estimate that the amount of time required to make an informed decision, that covers all the points on this web site, would require approximately 200 man hours and more depending on the level of understanding of CNC Routers before you begin. What company owner or manager has 4 weeks to invest in this endeavor? Spread out over time it could take 6 months or longer to complete. We will provide a turn key solution that covers the following aspects of CNC Router acquisition:
Production Analysis of your production to determine the need for a CNC Router.
The Proper Configuration of a CNC Router for your Needs.
Incognito Delivery of up to 4 Quotes on Applicable Manufacturers. This provides specific quotes but keeps the salesmen away.
Software Recommendation.
Tooling Recommendation.
P & M recommendation based on the machine configuration and production requirements of your facility.